Utilizing Synchronous Ethernet Timing in 10GbE Breakout from a 100G Multi-Link Gearbox (MLG)
Tuesday October 5, 2021
By Scott Irwin
Vice President, LineSpeed Products
MoSys, Inc.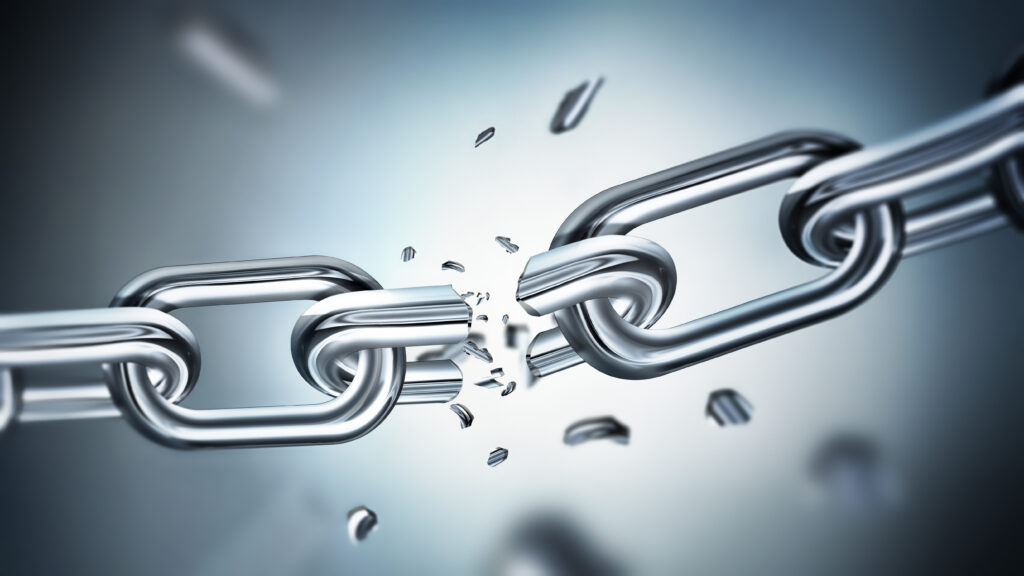 With ultra-fast speeds, high reliability, and low latency, 5G holds the promise of enhancing learning in classrooms, helping manage smart cities, taking entertainment to new levels of interaction with virtual and augmented reality applications. 5G will also boost travel and commute experiences with enhanced connected car function and drive new levels of performance and efficiency in manufacturing and factories by leveraging new uses for artificial intelligence and more.
In my previous blog, I discussed the benefits of dense 10GbE breakout from a 100G (4x25G) port by utilizing the Multi-Link Gearbox (MLG) protocol function of our MSH322S MLG devices. These 10GbE links are integral to the back-haul networks supporting 5G wireless deployments. With strict 5G timing and latency variation requirements, network timing models are essential. One of the key elements that can be used to control timing variation is Synchronous Ethernet (SyncE) network clocking, where physical link timing is passed along network segments to maintain a distributed view of "time". MoSys MSH322S MLG devices support this SyncE timing model.
In general, a 10GbE physical link is terminated by recovering the incoming data stream from a remote link partner and retiming it to a "local", standalone reference clock. The frequency offset is handled by adding or removing the overhead padding built into Ethernet packet streams. The frequency offset between a local reference clock and that of the link partner is bounded, but generally not known specifically. Thus, the local notion of "time" will differ from that of the remote partner.
The below diagram illustrates the ingress (10GbE-to-MLG) and egress (MLG-to-10GbE) paths within the Multi-Link Gearbox function of the MSH322S device. Rather than retiming incoming data to a local reference clock, one of the incoming links (lanes) can be used as the timing reference for the outbound data on the opposite side of the gearbox. This can optionally be done in either or both directions, thus passing timing/frequency information through the network. This recovered clock can also be brought out of the device via dedicated differential output clock pins. In the event of the loss of the incoming 10GbE link used as timing reference, the MSH322S can automatically switch to a local reference clock, thus maintaining overall functionality for the remaining 10GbE links.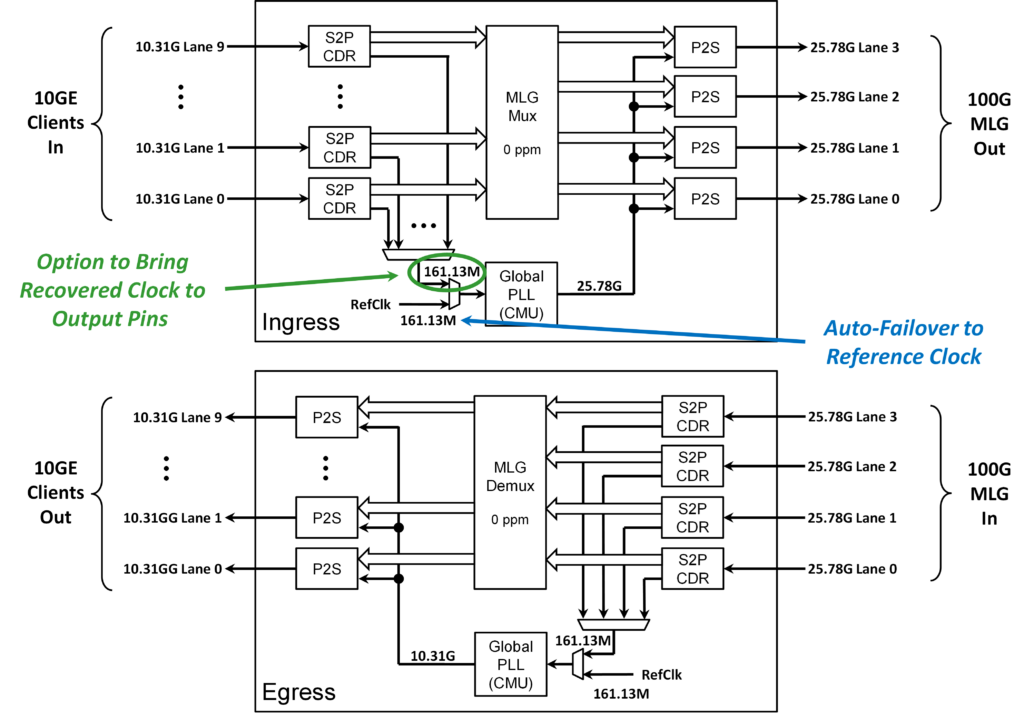 The MoSys MSH322S device supports critical industry standards, such as IEEE and OIF 10G, 25G, 100G electrical standards; the OIF Multi-Link Gearbox (MLG) 1.0 standard, and pluggable module interfaces (e.g., SFP, QSFP, CFP). Each MSH322S supports 10 independent 10GbE links aggregated per 100G port and maintains 100Gb/s port bandwidth while supporting dense 10GbE breakout. The devices are available in high volume at around $100 each.
In summary, the MoSys solution adheres to industry standards for interoperability with other available industry devices and interfaces. The single device supports breakout to 10 x 10GbE interconnections and offers strong signal integrity for ease of system design/bring-up and reliable operation along with synchronous Ethernet (SyncE) network timing support. The solution is ideal for Data Centers and Cloud Computing, Datacom, Telecom, 5G Systems, and 100G Line Cards and Switch applications.
If you are looking for more technical information or need to discuss your technical challenges with an expert, we are happy to help. Email us and we will arrange to have one of our technical specialists speak with you.  You can also sign up for updates. Finally, please follow us on social media so we can keep in touch.