Dense 10GbE Breakout with MoSys LineSpeed™ Flex PHY
Wednesday April 22, 2020
By Scott Irwin
Vice President, LineSpeed Products
MoSys, Inc.
Even as network equipment vendors implement higher port-rates at 100G and above, the need remains to support 10Gb Ethernet (10GbE) ports. While a 100G port (i.e. 4 x 25Gb/s) can be run at 4 x 10Gb/s, this effectively utilizes only 40% of the bandwidth available for that switch, ASIC, or FPGA port, thus reducing the aggregate switching, routing, or processing throughput.
The MoSys MSH323 Multi-Link Gearbox (MLG) device supports dense 10 x 10GbE Ethernet port breakout from a single 100G switch, ASIC, or FPGA port. By utilizing the 10GbE Mux/Demux capability defined by the Optical Internetworking Forum (OIF) in its MLG standard, the full bandwidth of the 100G port can be maintained. This is illustrated in the figure below, where the 100G "host" port is expanded to ten 10GbE (SFP+) links. The MSH323 also includes an optional 4 x 25G Retimer function, which can be used to support 25GbE (SFP28) links with the same device.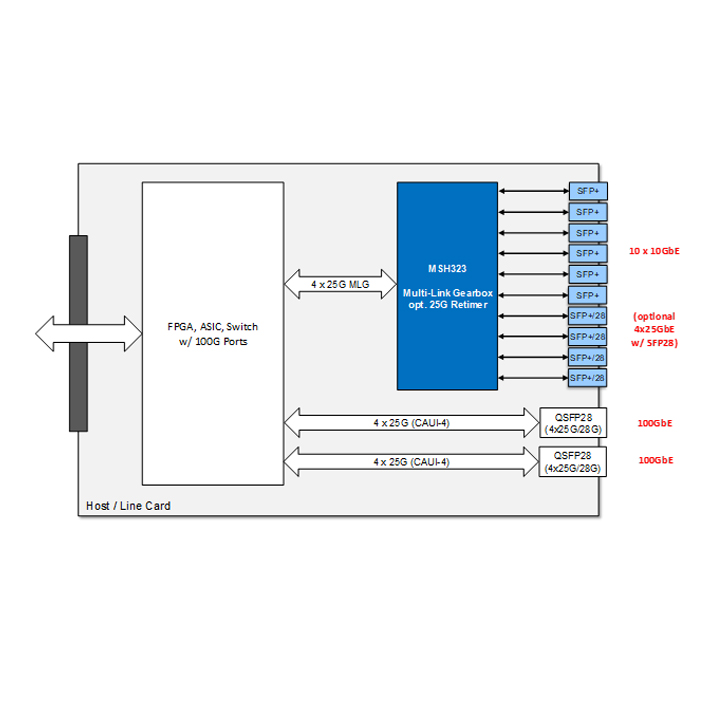 Features and benefits of the MSH323 Multi-Link Gearbox device include: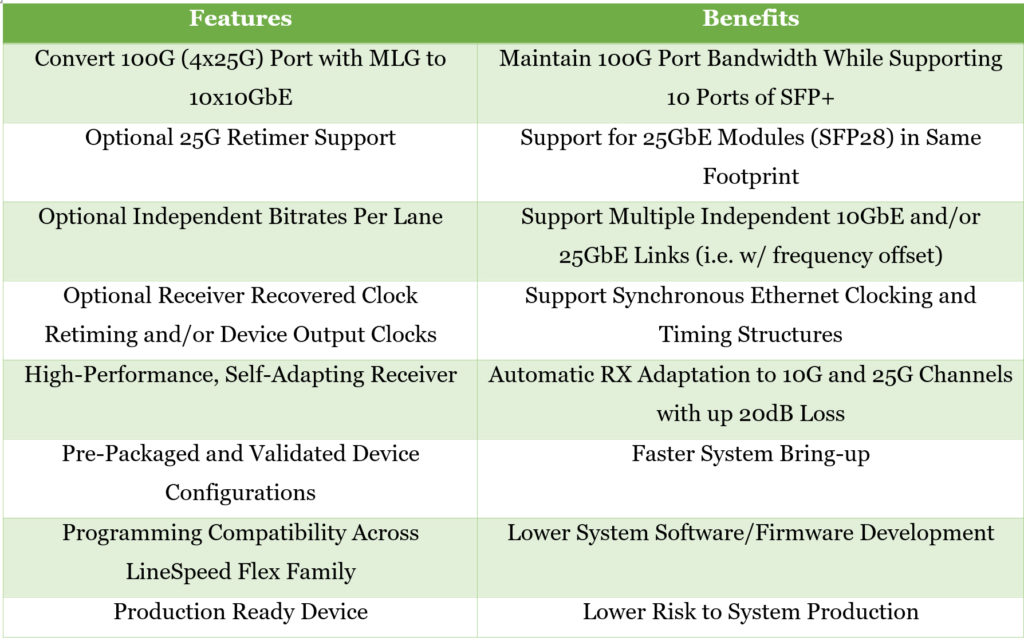 The MSH323, coupled to a MLG-based 100G port, is the perfect solution for 10GbE breakout to SFP+ interfaces. And with its 25G Retimer mode, a single footprint can support both 10GbE (SFP+) and 25GbE (SFP28) interfaces.
If you are looking for more technical information or need to discuss your technical challenges with an expert, we are happy to help. Email us and we will arrange to have one of our technical specialists speak with you. You can also sign up for updates. Finally, please follow us on social media so we can keep in touch.