Bringing 100Gb Ethernet RS-FEC to Low-Cost FPGAs
Tuesday April 27, 2021
By Scott Irwin
Vice President, LineSpeed Products
MoSys, Inc.
It is not news to many of you that the latest 100G optical module standards now require Reed Solomon – Forward Error Correction (RS-FEC) encoding to extend the reach and/or reliability of these optical links. RS-FEC encoding, as defined by the IEEE in 802.3bj, is applied to the 4x25G interface commonly used to connect these 100GE optical modules, such as QSFP28 pluggable modules.
So, there is good news and bad news about this. The bad news is that RS-FEC encoding cannot be applied at the original 10x10G signaling interfaces used in earlier 100GbE standards and is incompatible with the 10x10G-to-4x25G "Gearbox" function as defined in IEEE 802.3ba. This makes it difficult to utilize FPGAs and ASICs with lower-speed SerDes (10-11G) to implement the latest 100GbE interfaces.
The good news is that MoSys has a solution. The MoSys MSH320SF device is the best fit for 100GE optical interfaces. It supports critical industry standards, such as IEEE and OIF 10G, 25G, 40G and 100G standards. The Forward Error Correction (FEC) payload support allows direct connection to 100G optical standards requiring RS-FEC (e.g. SR4, CWDM, PSM4). There is also 100G QSFP28 optical module support using lower-cost FPGAs with 10-11G SerDes Interfaces. The MoSys solution also supports Gearbox and Gearbox with RS-FEC modes for 100G QSFP28 modules and Retimer mode for 40GbE/OTN Modules (QSFP+) in the same footprint. Other features include reliable signal integrity which is key to ensuring reliable transfer of data, self-adapting RX equalizers for ease of connection, a reduction in board design and bring-up time by eliminating per-lane "tuning" and an excellent power/performance ratio.

Finally, as cost/performance must be considered in any system design, some devices in volume are priced at less than $50 each.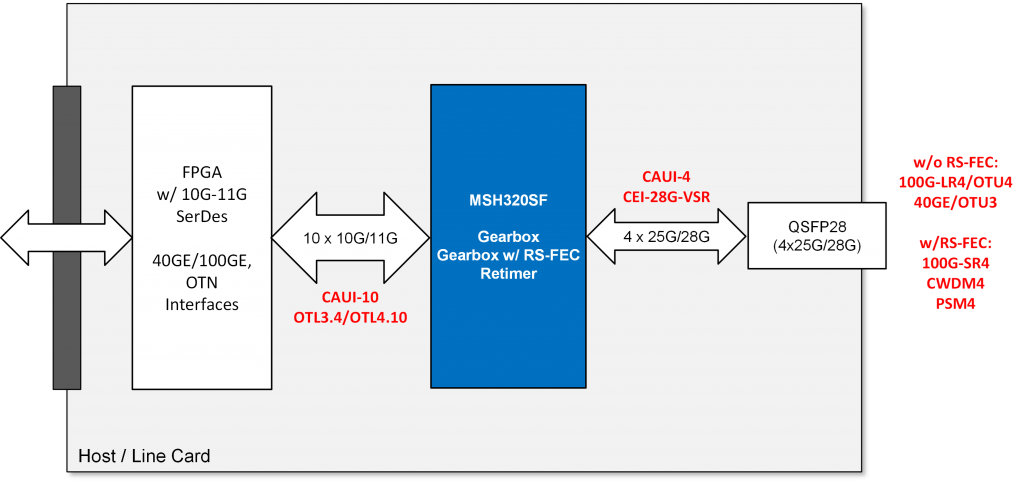 MoSys devices are well-suited to a wide variety of applications including Data Centers and Cloud Computing, Datacom and Telecom Systems, 100G Line Cards and Switches and data loss prevention in critical systems.
If you are looking for more technical information or need to discuss your technical challenges with an expert, we are happy to help. Email us and we will arrange to have one of our technical specialists speak with you.  You can also sign up for updates. Finally, please follow us on social media so we can keep in touch.